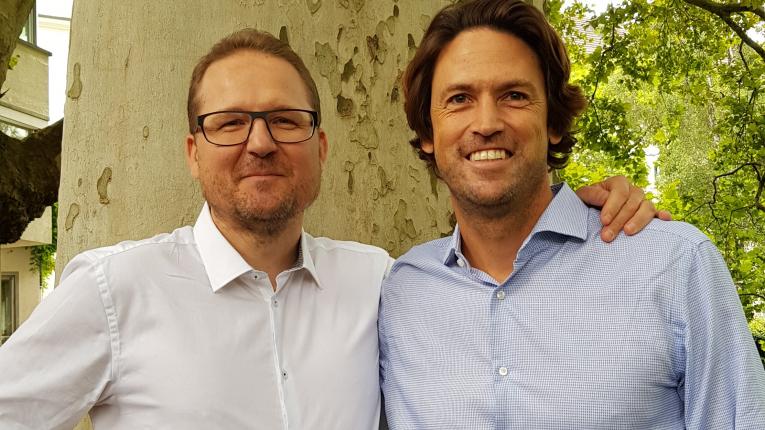 Copyrights:
Philippe Furrer (left) & Patrick Elmer (right)
Innovative finance mechanisms: A shot in the arm for sport and development?
Two Swiss-based advisory firms are teaming up to explore the potential of applying innovative finance mechanisms to generate more social capital through sport and address youth challenges worldwide.
sportanddev met Philippe Furrer and Patrick Elmer, the respective founders of insPoweredBy and iGravity, who advocate for what they call SDG 18 –Physical Activity and Sports for All.
sportanddev: Can you tell us what triggered this new collaboration in the first place?
Philippe: I have spent the largest part of my career in sport and observed how sport continues to be considered by political and corporate leaders as either a form of leisure or a business opportunity. Today, there is increasing evidence about sport's ability to change lives and address social challenges.
I met Patrick last year after reading a lot on innovative finance and impact investment. It dawned on me that there is a huge opportunity for the world of sport to tap into alternative and innovative financing.
Patrick: When I first met Phil, I was excited to learn about the role of sports and physical activity to achieve development goals, especially as there is an urgent need for new partnerships and financing solutions. Switzerland combines a unique set of expertise and capabilities, including in innovative finance and humanitarian traditions, while being the home of the largest international sports organisations. We are therefore provocatively proposing SDG 18 – Physical Activity and Sports for All.
sportanddev: What would be the most relevant areas to tackle through sport, in your view?
Philippe: Sport is a universal language and it can improve the wellbeing of our communities. It can deliver invaluable benefits to health and wellbeing, inclusion, conflict resolution, confidence, empowerment of young people and women, academic achievement and employability.
Sport for development has evolved dramatically since its early days more than 20 years ago. From sending balls and nets to vulnerable places, there are now elaborate methodologies to educate youth, empower young leaders or to sustain peace. We have been impressed with the work some NGOs are doing to measure the impact of their programmes, such as Right to Play, the Swiss Academy for Development, Game and many others.
Patrick: However, we need more work to determine which models are more effective and can be scaled up. Is it in health and wellbeing, education, employability or peacebuilding? And is it in humanitarian and emergency settings for relief or more at the community level? Hence our current survey and the White Paper on which we have started to work.
Philippe: Different economic, social, environmental or cultural contexts mean that too many have only limited access to the benefits of sport. Most projects remain small-scale and local and there is often a lack of evidence on what works best. Building upon the trailblazing work of the world's leading sports organisations and federations, it is now time to develop an evidence base about what sort of projects are most efficient and design effective programmes that are scalable and can attract sustainable financing.
sportanddev: So what is exactly innovative finance and what role could it play?
Patrick: Sport for development projects are traditionally supported through development aid – whether that be grants from foundations and governments or donations from individuals. Innovative finance is a broad term that encompasses many other ways for organisations to access funding.
The difference is that innovative financial mechanisms often mobilise private sector financing to realise social outcomes as well as provide payment based on achieved results (for example, improved socio-emotional skills for children participating in sports programmes) rather than based on activities (for example, the number of soccer balls donated to schools or the number of games held in a year). Many innovative financing mechanisms combine public and private resources, and different instruments have different purposes, for example, helping organisations to scale activities or increasing the predictability of funding for a project.
sportanddev: So how do you think you can apply a new approach to funding sport and development?
Philippe: What we want to explore through our White Paper and research is the potential to go beyond traditional donation-based philanthropy. There is no reason why innovative financial tools have been successfully applied to other development domains such as physical rehabilitation centres, girl's education or water projects, but not yet extensively in the sports field.
We have been encouraged by the overall positive response of the sports world and already found committed partners like the UEFA Foundation for Children, World Taekwondo and its Humanitarian Foundation, Right to Play, the Swiss Academy for Development and the Lausanne-based International Academy of Sports Science and Technology to join us.
Patrick: We now need to identify the best organisations, with proven models and established metrics, as payments for results are a key feature of innovative finance mechanisms. We will also look at opportunities and challenges in the sector, including different operating models and the degree of operational sophistication. This will guide us in designing new forms of financing to scale up successful programmes. It is still too early to determine which mechanisms and tools we will develop and apply, but we are keen to bring together the best of sports, finance and development to support SDG 18.
Philippe Furrer
Activiste du mouvement et du sport
@inspoweredby
Cet article a été publié sur www.sportanddev.org en août 2019